Open House Give-Away Events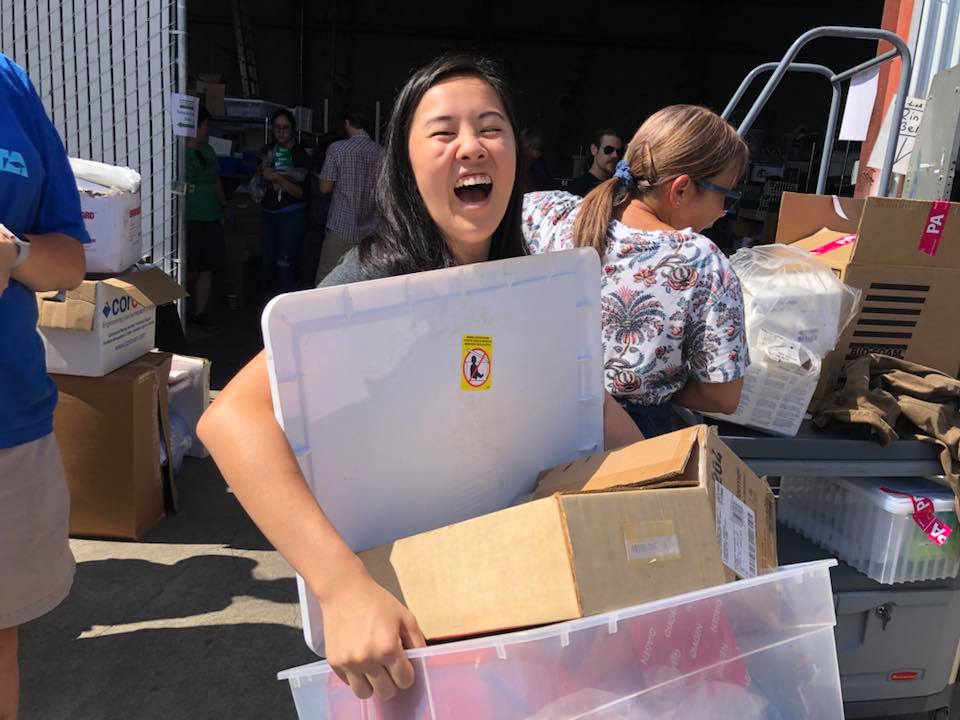 The Fall Open House date will be announced soon!
Check back here to register!
Open House Events so far in 2023
March 5th
April 30th
June 18th (Sponsored by AEAB)

 
September 17
Next date announced soon!
Upcoming 2023 Event dates will be announced here once scheduled. Registration via Eventbrite will go live about 3 weeks before each open house.
Open House Process
Please sign up for our newsletter to be the first to hear when these events are being scheduled.
If you are an educator or a researcher at a registered institution you are welcome to pre-register on eventbrite and attend our open house in Oakland, typically held over the weekends, and select items for your institution.
At the Depot we strive to provide as many educators with supplies as we can. We are trying to distribute basic supplies as equitably as possible. We have especially large quantities of glassware, pipette tips, filers, centrifuge tubes, vials, and test-tubes of various sizes. We also have limited amounts of lab equipment such as microscopes, hot plates, centrifuges, water baths, etc. Please only take what you need. Thank you!
Sign-in at the registration desk. You will get a Badge with your name and badge ID. You will also get a pick-list form. Please fill in your name and badge ID number on this form. You will hand this form back with the list of items you have picked when you checkout.
Lift with your legs, not your back. If an item is heavy or out of reach, please ask for assistance. Do not use ladders without our permission. If you see broken glass or other hazard or a blocked exit, please report it. Wear comfortable clothing. No open-toed shoes allowed.
Children under 13 are not allowed on site.
You will get verbal instructions before the Depot is opened for "shopping" at the posted time, such as locations of restrooms and how to get assistance.
Carts are available throughout the Depot. Please use them for loading and unloading only.
Empty boxes and shipping tapes to assemble boxes are also available by the entrance to the Depot.
Select and pick the equipment and supplies that you need. Note, some items are for Bio-Link Depot use only and will be marked as such. If you are unsure if an item is available, please ask the volunteers around you. There are designated areas for holding your items; please label your items or place your pick-list form with your name and badge ID on top.
Once you are done picking, fill out your pick list form listing the items you have picked and estimated value. If you need help filling out the details, please ask volunteers with green badges or stickers for help. You will need to weigh the items you have at the weighing station and enter the total weight on your form.
Check-out at the check-out desk by handing in your badge and pick-list.
Please note, all the supplies you take with you are for your institution only. If later you are unable to use any of your items, you are free to donate them back to the Depot.
Frequently Asked Questions
Who qualifies for free donated equipment and how do I apply for access?
Anyone affiliated with an educational institution qualifies. A valid educational institution ID is required. For community and maker labs, please bring an official letter from your institution signed by an authorized official.
How much equipment can we take if we qualify?
We encourage you to take as much as you need to equip your classes and research, as long as you leave some behind for others. Take what you need, not what you can carry!
Can recipients give donations?
Yes, recipients can donate. We encourage teachers and institutions that have more gear than they need to give it to us, and we will donate it to other recipients. Financial
donations are also appreciated.
What types of equipment and supplies do you distribute?
The answer is a huge variety of equipment and supplies. We have consumables such as pipette tips, filtration products, microplates, microscope slides, specialty glass, plastic bottles/vials. And equipment such as hot plates, stirring motors, centrifuges, microscopes, shakers, water baths, vortexes, power supplies, pipettors, and autoclaves. There are many more items than can be listed here and our inventory changes with every Open House.
Can you reserve equipment or supplies?
Currently, we do not have a reservation system in place.
Does the Bio-Link Depot provide transportation for equipment?
You must arrange your own transportation.